Major milestone reached in Vow's breakthrough US project
July 17th, 2023
In May last year, Vow ASA agreed to deliver a complete biochar and renewable energy system valued at USD 27 million in the US. The project has now reached a significant milestone with all required permits obtained, detailed engineering of major equipment is largely complete, and the project has entered the procurement and construction phase.
This is the largest single contract signed by Vow to date and a significant breakthrough in circular biochar solutions. Equipment delivery will begin in the fourth quarter of 2023, and the commissioning of the up to 6,000 tonnes per year biochar production plant is anticipated in early 2025.
The owner of the project is Quonset Soil Solutions, LLC ("QSS"), an affiliate of Green Development, LLC, which is based in the state of Rhode Island and a leading developer of large-scale renewable energy projects in the Northeast. Vow and Green Development have collaborated extensively since initially signing in May 2022 to provide detailed design and environmental impact analysis required to obtain air and building permits.
"In Vow, we are fortunate to work with green entrepreneurs like Mark DePasquale and his team at Green Development. Together with similarly entrepreneurial minds in the cruise industry, we have invented technology for cleaner oceans. We are now doing the same for industries on land, ending waste, reducing atmospheric carbon dioxide, and creating circularity," said Henrik Badin, CEO of Vow ASA.
According to the agreement, Vow will deliver four state-of-the-art BioGreen® pyrolysis reactors in addition to upstream material handling equipment and downstream energy production and emission control equipment. Green Development and its expert team of consultants will act as the general contractor for building the facility.
"We worked with an international biochar consulting firm to create and apply an evaluation framework for choosing pyrolysis machinery for our new plant. Following a months-long evaluation of many vendors, it became clear that a Vow system is the ideal choice for QSS, ″ according to QSS CEO Mark DePasquale.
"Not only did the Vow technology emerge as superior to the other brands on our shortlist, but Vow has also proven to be a true partner, collaborating with us to ensure the optimal custom design for our needs,″ he added.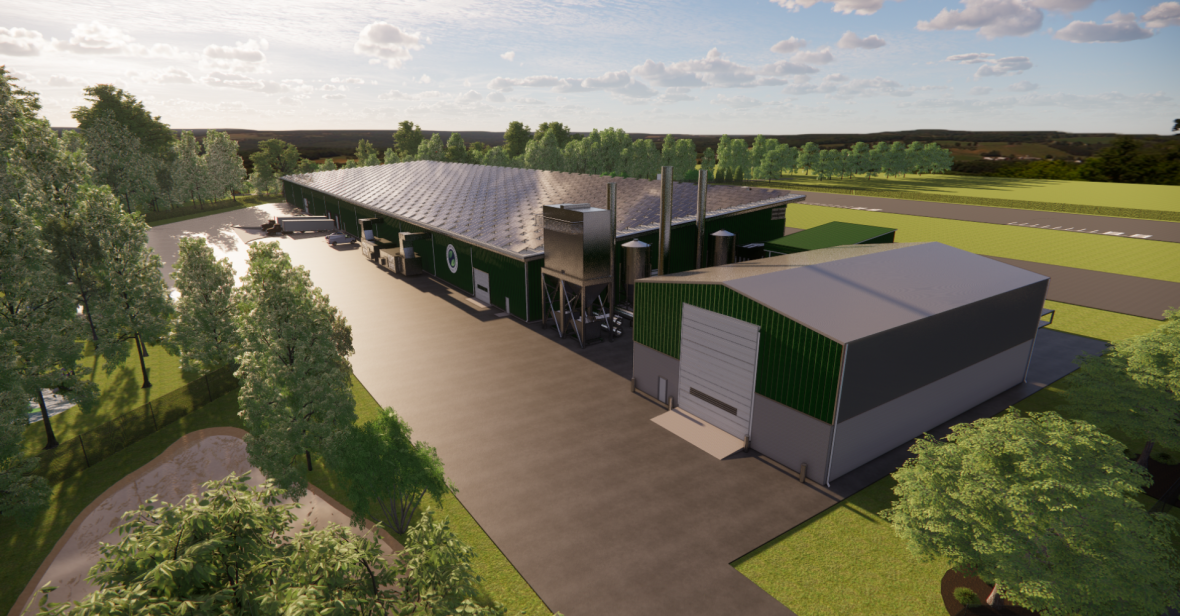 The biochar project will be the first of its kind in the US for both Vow and Green Development and is a key strategic opportunity to make an economic and environmental impact in the US market.
The biochar produced at the facility will be used in several markets currently under development by QSS. The pyrolysis gas will be converted into heat utilized to dry the feedstock and produce electricity. In addition to direct revenue for biochar, QSS will produce carbon credits.
The facility will be located in the Quonset Business Park run by the Quonset Development Corporation (QDC) near Green Development's headquarters in Cranston, RI. The QDC is a quasi-state agency, established as a particular purpose subsidiary of the Rhode Island Commerce Corporation (formerly the RI Economic Development Corporation) which is responsible for the development and management of the Quonset Business Park.
For more information, please contact Henrik Badin, CEO, Vow ASA Tel: + 47 90 78 98 25 Email: henrik.badin@vowasa.com
Tina Tønnessen, CFO, Vow ASA Tel: +47 406 395 56 Email: tina.tonnessen@vowasa.com
About Vow Vow and its subsidiaries Scanship, C.H. Evensen and Etia are passionate about preventing pollution. The company's world-leading solutions convert biomass and waste into valuable resources and generate clean energy for a wide range of industries.
Cruise ships on every ocean have Vow technology inside which processes waste and purifies wastewater. Fish farmers are adopting similar solutions, and public utilities and industries use our solutions for sludge processing, waste management, and biogas production on land.
With advanced technologies and solutions, Vow turns waste into biogenetic fuels to help decarbonize the industry and convert plastic waste into fuel, clean energy, and high-value pyro carbon. The solutions are scalable, standardized, patented, and thoroughly documented, and the company's capability to deliver is well-proven. They are key to ending waste and stop pollution.
Located at Lysaker outside Oslo, the parent company Vow ASA is listed on the Oslo Stock Exchange (ticker VOW).
About Green Development Green Development LLC is a leading developer of large-scale renewable energy projects in the Northeast, specializing in wind, solar, and battery storage. With more than 182 MW in solar and wind capacity currently online or under construction, the company leverages its in-house expertise to design, finance, build, and maintain a diverse portfolio of clean energy assets. Green will be providing engineering, procurement, and construction (EPC) services for the new QSS plant.
About Quonset Soil Solutions (QSS) Quonset Soil Solutions (QSS), a Green Development LLC affiliate, was established to transform underutilized forestry by-products into biochar, a proven, environmentally-sound horticultural and agricultural soil amendment that has the added benefit of long-term CO2 sequestration. The mission of QSS is to help reduce air and water pollution by offering products and services that participate in the circular economy.
Comments are closed.